Review: Becoming the Villainess
Becoming the Villainess
Jeannine Hall Gailey
Steel Toe Books
2006
Coming across Jeannine Hall Gailey's Becoming the Villainess is like coming upon a lush, sprawling field of wheatgrass while exploring the dark side of the moon:  so unexpected and refreshing that one wonders whether or not their O2 tank has been poisoned.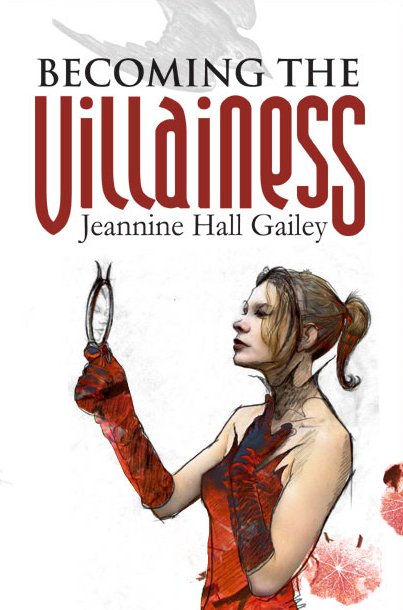 Published in 2006 by Steel Toe Books, Becoming the Villainess is a seductive, robust collection of poems encompassing numerous female protagonists from mythology, comic books, folklore, literature and even the everyday news.  Where many persona collections have tried (and failed) to effectively produce a rich, harmonious chorus whose singers can, when called upon, launch into melodious, moving solo performances, Jeannine Hall Gailey has succeeded in creating something that is both singularly operatic and, simultaneously, like a crowd of partiers screaming that they are finally free from last year's humdrum.
To try and boil down the multi-faceted personae that appear in Becoming the Villainess is too great a task for the limited space demanded by this review.  This collection has one of the largest casts of characters ever come across within a persona poetry collection.  Its voices range from those of Wonder Woman to Philomel to Alice from Alice in Wonderland.  There is even a poem written in the voice of an unnamed but very familiar video game heroine (I'm looking at you Lara Croft!).  Diversity of voices aside however, any good reader curious about Becoming the Villainess has to wonder exactly what these voices have to say and whether or not they're speaking with depth, evocativeness and, most importantly, honesty.
Like all persona poetry, the voices within Becoming the Villainess are the palette of colors and textures our artist is using to recreate her own unique vision of the world.  The canvas is, of course, the page and words are the brush.  So what does Gailey create within Becoming the Villainess as she uses this wide array of voices to speak?  Simply:  she creates a very rich and resonant mirror through which societies (past, present and fictitious) have viewed women.  But Gailey's Becoming the Villainess does more than make us look at ourselves and how our society has impacted the roles of women, Gailey takes it further by creating a collection in which the mirror looks back at us and, after languishing in silence for years, finally speaks.
Becoming the Villainess is a poetry collection that no reader should be without.  In this day and age of the writer factories that some MFA programs can be—producing harvest after harvest of writers all still trying to emulate Eliot, Dickens, Whitman and others—Jeannine Hall Gailey comes through like a hurricane of inventiveness, dramatically blowing aside the old tropes, the standardized and overused conventions of yesteryear.  And in her wake she leaves the poetry world with something profound, passionate and inspirational.
Overall Rating: 4 out of 5.
You'll like this if you're interested in: persona poetry; feminine perspective; mythology; comic books.
Where to find it: Amazon.com & the poet's own webpage:  www.webbish6.com
Sample:
Becoming the Villainess
A girl – lovelocked, alone – wanders into a forest
where lions and wolves lie in wait.
The girl feeds them caramels from the pockets of her paper dress.
They follow like dogs.
Each day she weaves for twelve brothers, twelve golden shirts
twelve pairs of slippers, twelve sets of golden mail.
She sleeps under olive trees, praying for rescue.
In her dreams doves fly in circles, crying out her name.
For a hundred years she is turned into a golden bird,
hung in a cage in a witch's castle. Her brothers
are all turned to stone. She cannot save them,
no matter how many witches she burns.
She weeps tears that cannot be heard
but turn to rubies when they hit the ground.
She lifted her hand against the light
and it became a feathered wing.
She learns the songs of mockingbirds, parakeets, pheasants.
She wanders into the forest more herself.
She speaks of her twelve stone brothers.
There is a dragon curled around eggs. There is a princess
who is also a white cat, and a tiny dog
she carries in a walnut shell.
She befriends a reindeer who speaks wisdom.
They are all in her corner. It seems unlikely now
that she will ever return home, remember what
it was like, her mother and father, the promises.
She will adopt a new costume,
set up shop in a witch's castle,
perhaps lure young princes and princesses
to herself, to cure what ails her –
her loneliness, her grandeur,
the way her heart has become a stone.
---
2 Responses to "Review: Becoming the Villainess"
Follow responses to this entry through the RSS 2.0 feed.