Review: Krypton Nights
Krypton Nights
Bryan D. Dietrich
Zoo Press
2002
Few books in any writing genre have been constructed with as much vision, ambition and complexity as Bryan Dietrich's Krypton Nights.  Winner of the prestigious Paris Review Prize in Poetry in 2001, Krypton Nights is an intriguing collection of persona poems written in the voices of prominent characters from the Superman mythos.  Shifting through both voice and poetic structure, Krypton Nights is, in its own way, a treatise on heroes as argued by the hero and those closest to him.  It is, in both an emotional and artistic sense, a "grounding" of the superhero genre's original product.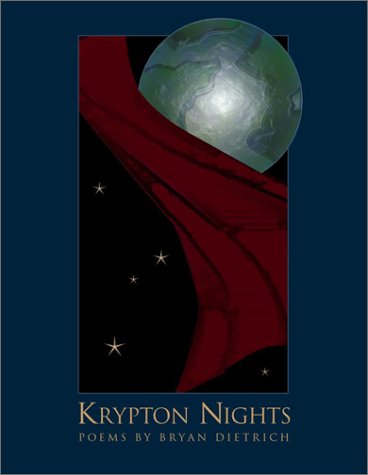 Krypton Nights is divided into four sections penned by various persona voices:  Autobiography of a Cape (a sonnet crown written in the voice of Superman), the Jor-El tapes (a cycle written by Superman's biological father, Jor-El), The Secret Diaries of Lois Lane and Lex Luthor's Complaint (a section penned mostly by Lex Luthor, but with appearances by other voices including the Joker).  By having the collection so succinctly bound to all things Superman, Dietrich manages a unique feeling of resonance and response as the book moves through its rich and varying persona.
Each voice within this collection, while speaking their personal tales of woe and psychological ambivalence, is still bound to the orbit of Superman.  As Lois Lane laments her perceived inferiority to the Man of Steel, her self-doubt begins to resonate with Superman's own self-doubt.  Where she is afraid that she isn't good enough for him, he is afraid that he is not good enough of a hero (a good enough of a person) for the world.  The entire collection is wrought with this shared turmoil, giving it a distinctive and beautifully complex cohesion.
If Krypton Nights has any large flaw, it comes from its initial poetic presence.  Admittedly, even for a die hard comic-book-fanboy and poetry buff like myself, Krypton Nights takes time to love.  Dietrich's achievements in form, prosody and emotional richness are not overt successes.  Often times the collection's obscure comic book and religious references are off-putting, sending the reader screaming for the local library or, more correctly, a desperate Google search.  While it is quite clear that Dietrich approached his collection with an immeasurable amount of religious research and a lifetime of comic book reading, only a select few readers will share such vast and disconnected interest and, thus, be able to understand and apply their esoteric meanings to the reading.  In short, there are times within the collection where the text pushes against the reader and, to fully appreciate the project, the reader may have to push back.
That weakness aside, Krypton Nights is a singular, distinct and innovative creation within both the world of poetry and the extended realm of superhero comic books.  In a very real sense, this collection is an evolution of the superhero comic book genre.  It is something that could have only been created in the wake of the Modern Era of superhero books which began in the late 1970 – early 1980s.  Krypton Nights is living, breathing proof that, just as the readers of comic books can grow into intelligent, complex, poetic adults, so too can the superhero characters that have journeyed with them throughout their lives.
Overall Rating:  4 out of 5
You'll like this if you're interested in:  Superman; superheroes; persona poetry; mythology/religion; formal poetry (sonnets; sonnet crowns; blank verse)
Where to find it:  With its publisher, Zoo Press, now defunct, copies are scarce.  When last I checked, Amazon.com had limited supplies.  The poet has a website though:  www.bryandietrich.com
Sample from Krypton Nights:
I, Kent
Listen, it isn't even my planet.
I just work here.  A man of letters, mild
mannered, nerves of less than steel.  Yes, I can
outrun most anything–thieves, mid-range sports
sedans, Shoemaker-Levy–can chew
a mouthful of coal to a cud of diamonds,
but I'm not as Delphic as you dream.  I get
sleep apnea, hemorrhoids, runs in my tights.
I like Gilligan's Island and late night horror
flick medleys.  Thermonuclear trust funds,
Greenpeace for guns, heavy metal milk lobbyists…
None of it gets me wet the way it used to.
If I could, I'd curl up in my cape
with an old comic, an orange soda,
a little Vivaldi.  No telephone
booths; just Ming the Merciless to take me
away.  Oh well.  Shit happens.  Worlds collide,
babes fall out of the sky, grow up, get lives.
My flat's just over there.  No, the brownstone.
Yeah, that one.  Corner room, third from–  No.  Up, up…
Anyway, I took this position because,
frankly, it looked like a job for me.  Now
I'm not so sure anymore.  I'm tired of being,
well, necessary.  You don't know what it's like.
Hardly feeling a thing, seeing through
people, overhearing assassination plots
two countries over and still needing
new underwear every Christmas.  One day
I hate the boots, belt, bikini, this "S" appliqué;
the next, I feel like punching every hornrimmed
dweeb I see.  Dad warned me it might be like this.
"Son," he said, "you'll just wanna come home."  Problem is,
I can't.
---
2 Responses to "Review: Krypton Nights"
Follow responses to this entry through the RSS 2.0 feed.