Now viewing: 1100 Tenets of Geek
In my continuing exploration of my own Geek, I came to realize I needed a code, an ethos, pillars upon which I may become a better geek and, ultimately, further Geek as a whole.  Thus was born the 1100 Tenets of Geek.
Through these words, may the Geek flow for you as it has flowed for me.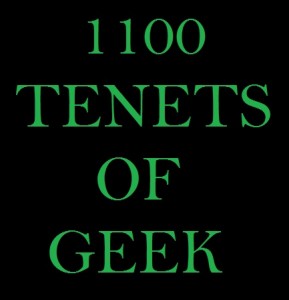 1:  Admit that you are a geek and that you are powerless against your particular denomination(s) of Geek.
2:  Believe that there is a power greater than you, and it is called Geek.  And though Geek takes many forms, always strive to recognize it.
3:  Make the decision to turn your life over to Geek.