MG: Inception-y At McDonald's
Modern Geek Chronicles:
Getting All "Inception-y"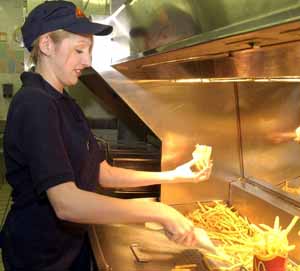 "Don't go getting all Inception-y back there, just drop the damned fries!"
The above statement was overheard at a McDonald's in the fair city of Wilmington, NC.  I have to admit, I'm not quite sure what it means, but it sounds damned serious.  Part of me thinks I understand what it means to "get all Inception-y."  In my head, it's akin to "getting all Matrix-y" which is, itself, akin to "getting all Blade Runner-y."  Jump back a hundred years and the saying was probably "getting all Metropolis-y."  Step back about 1500 years and it's "don't go getting all Justinian-y." And on and on and on.
I wonder what the hell could have been going on in that McDonald's that was "Inception-y."  I picture a pair of pimple-faced teenagers scuffling in the belly of a spinning industrial freezer as processed meat patties tumbled like hockey pucks around them.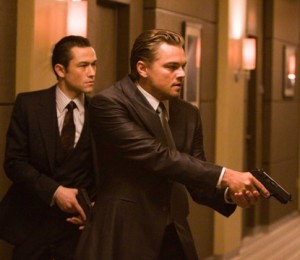 Or I imagine Leonardo DiCaprio popping off a few rounds across the deep fryer.  And every time a customer comes up to the drive through to place their order that loud ass "BWOOOOOOOOOOOOM!!!" thunders through the speakers in the Men's room just as some guy is trying to zip his fly.
"BWOOOOOOOOOOOOM!!!"
Zip!
"Aaaaaaarhhh!"
Or maybe that's just me and my imagination.
But, regardless, there are more important things to consider here than just the image of some dude's junk forcibly bonded with the zipper of his Levi's.  My gut tells me there was a geek somewhere around that fry cooker.  I've no idea what the conversation was about that was so distracting that, somewhere over by the fry cooker, somebody was forgetting to combine the potatoes with the oil.  But I have my theories.
Geeks get distracted.  Or, perhaps to put it in a better way:   geeks get focused.  Boy, oh boy, do we get focused!  Geek's get focused to the point of obsession.  If you don't believe me, try to interrupt your favorite geek just as something new and exciting has happened in their particular denomination of geek.  Go and knock on a video game geek's door on the day the latest BioWare epic drops.  If you're lucky, you'll get ignored.  If you're unlucky, the door will be rigged to gently spritz you with a healthy dose of chloroform.
As you lie unconscious on the front stoop, your geek just gained +5 to their character's Charisma stat…which is as it should be.
And even though we geeks rule the world (and let's face it, we do!) not all of us get paid what we're worth.  We all have to start somewhere, but that doesn't mean we forget to be Geek.  For three years I worked at Bed Bath & Beyond alongside some of the smartest geeks I've ever known.  Some of my favorite BB&B memories involve discussing theoretical physics while chucking Cuisinart blenders twenty feet into the air—really, how did you think all those goodies you see stacked to the rafters of your local BB&B got there to begin with?
Theoretical physics and a willingness to propel five-pound food processors at eighty-percent escape velocity, that's how!
You see, dear world, geeks will be geeks, no matter where they are or what they're doing.  Yeah, we may try to hide our Geek ways from time to time, try to bow our heads and, somehow, pretend that we're not really hearing the music from Super Mario Bros. playing in our head whenever we meet someone named Mario—I know it's not just me!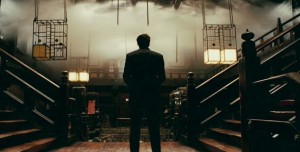 But when two geeks find each other, even if it's around the fry cooker at McDonald's, sometimes shit just gets Inception-y.  Because, dear god does it feel good to find a fellow geek!
So to that dude getting all Inception-y by the fries today:  Geek on, brother!
End transmission.
More Modern Geek:
Geek For So Long
Heatsinks & Love: Seeking Big
Memba This?!
---
Follow responses to this entry through the RSS 2.0 feed.