What Writers Can Learn From the A-Team
Over the past week or so I've been playing email tag with a very good friend from college who is at what I think is a very pivotal point in her writing life.  She's trying to get back on the writing wagon, but her muse seems to be asleep at the wheel.  Likely as not, it's because she works all day teaching and by the time she gets home her muse feels beaten within an inch of her life.  Teaching can do that some days.
Regardless, because she's a trooper, she's doing the Poem-A-Day challenge for the month of April and, while she started strong, it's eleven days into the maelstrom now and she admitted that she's beginning to flag.  The writing is slow and painful now and, when it finally does come, it's a train wreck so horrifying she suffers PTSD the next day and has a hard time boarding the writing train again.  We've all been there, and know how this can snowball into a writing slump.
She asked me for some thoughts on how to get past this.  Well, here's something I've learned about writing, and I learned it from the A-Team:  failure IS an option.
"But hold on there," you shout, whipping out your entire A-Team Blu-Ray collection, "the A-Team never failed!"
Well, actually, they failed every single day.  In spite of Hannibal's catchphrase, every episode was a planning and execution train wreck…at first.
When you sit and watch the A-Team five days a week (Or maybe that's just me?), you begin to notice a pattern.  Hannibal concocts some brilliant plan.  Scheme goes about its execution.  Plan is waylaid by bad guys or Colonel Decker who were patiently waiting in the shadows with their nigh-infinite cadre of henchmen.  A-Team is captured.
"Plan A"—Hannibal's creativity in its rawest form—never goes to plan.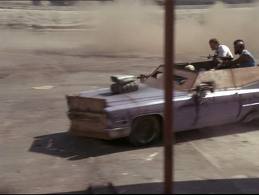 At which point the A-Team is locked away in some dilapidated shed or warehouse filled with scrap metal and blowtorches (I swear B.A. whips that blowtorch out in every. single. episode.  It makes me think blowtorches were the eighties equivalent of fire extinguishers.  But I digress.)  Anyhow, after the blowtorches, pipe wrenches, ball peen hammers and buzzsaws have done their work, the A-Team leaps from their prison-cum-workshed driving an improvised deathmobile so stunning it would give DARPA wet dreams.
The bad guys never stand a chance.
As a writer, when we're imprisoned in those sessions of cold, bad writing, we can't be afraid to bring out our own blowtorches and buzzsaws.  We can't be afraid to treat what we write as garbage and then pluck the valuables from it.
Writers are inherently stalked by the "Brilliant-or-bust" mentality.  If the writing doesn't come easily, then we believe must be doing something wrong.  So we quit for the day.  The problem with that is quitting for one day soon becomes a string of days with no writing and, eventually, you're not writing at all.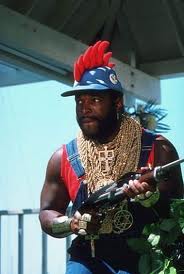 We've got to start living like the A-Team.  Wardrobe and all!  (Again, that could be just me.)  When life handed them lemons:  they whipped out the their tools and turned said lemons into armored vehicles!
The tools of our craft are many:  voice, tone, prosody, character, plot, scene, description, setting, and many more.  When I'm trying to write a poem and all that has come out is incoherent babble, I take a step back, remove my "writer" hat and don my "editor" hat and focus solely on craft.  I take a long hard look at what I have and stop treating it as a poem or story, but treat it simply as a collection of images, a single scene, a single character.  Whatever.  And then, with this microcosm of craft, I study how to make it better within the confines of a single element.
"What did this fail?" I ask myself.  "Why is this dialogue bad?"  "Why does this single image not work?"  "What is wrong with this line break?"  Etc.
As self-hating writers, we all know how easy it is to point out our own flaws.  Well I think it's high time we found strength in that.  Failure is an option, so long as you can consciously focus on learning from that failure and returning to the page tomorrow.
If the A-Team can build armored cars and improvised helicopters five days a week in syndication, the least we writers can do is try living "la vida Baracus" a little.
End transmission.
---
Follow responses to this entry through the RSS 2.0 feed.