Books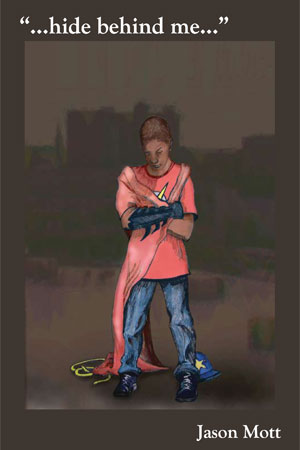 …hide behind me…
…hide behind me… is Jason Mott's second collection and can be purchased here.
Words about the book:
---
Jason Mott's collection, "…hide behind me…", is formally interesting in its examination of comic book archetypes and questions of morality, mortality, love, and especially the eternal quest by humans for heroism in the every day
.
—Jeannine Hall-Gailey,
author of Becoming the Villainess
---
A clever use of the superhero metaphor to draw parallels, like Rick Moody did in The Ice Storm, between the fantasy of wholeness and control of the superhero genre and the messy complications of contemporary life.
—Peter Coogan,
author of Superhero: The Secret Origin of a Genre
and Director of the Institute for Comics Studies
---
I like my poetry like I like my comics: original, emotional, and evocative. Jason Mott melds the two media with terrific effectiveness and skillfully runs me through a gamut of emotions no matter which page I turn to.
—Mark Waid,
author of Irredeemable, Superman: Birthright
and Kingdom Come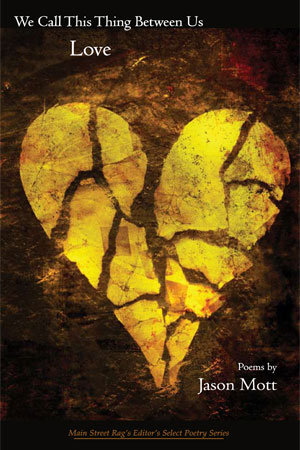 We Call This Thing Between Us Love
"We Call This Thing Between Us Love" is Jason Mott's first collection and can be purchased here.
Words about the book:
---
"
We humans may have difficulty forging the romantic and familial intimacy we so desperately desire, but these poems sure don't. They create an intense connection between poet and reader that counteracts the weakness, fear, resentment and loneliness that undermine our failed relationships. Formally varied, but singular in their conversational music, Mott's poems reflect the richness and range of his emotional life; like the redbird in "Imagery," they sing the aria of that universe trapped inside. And they sing beautifully.
"
—Mark Cox
Author of Smolder, Natural Causes,
and Thirty-Seven Years From The Stone
---
"
Jason Mott's We Call This Thing Between Us Love is a savvy examination of the multitude of ways we try to resolve loneliness. His collection provides us with one man's internalization of longing-rich with the guises of what is taken away, and what is ultimately given. As a result, we are left like Narcissus, gazing into our own eyes.
"
—Lavonne J. Adams
Author of Through the Glorieta Pass and
In the Shadow of the Mountain
---
"
Jason Mott has written a book of poems like no other–a book that reveals love in all of its guises-brutal and tender, mournful and celebratory, addictive and restorative. Deftly moving back and forth from raw, personal poems to imaginative, insightful poems that see through the eyes of others-lovers, family, and in one case, even The Big Bad Wolf–these poems offer us the human heart in all of its beauty and ugliness. And more importantly, Jason Mott gives better words to express what we so desperately and feebly call love.
"
—Daniel Nathan Terry
Author of Capturing the Dead